Last Friday, we brought to everyone's attention the 20 Worst Foods in America. Most of the "foods" on the list were well over 1,000 calories, the worst topping out at 2,900. While most people were probably disgusted by half the list, we tried to figure out how many of the 20 things we've devoured (9 or 10, depends on some technicalities...either way, we're fat).

I decided to come up with a top 10 list of our best food events; hopefully our doctors, personal trainers, financial advisors, or healthcare providers don't see this list. Unfortunately I wussed out and refuse to put these in any particular order. It's like picking your favorite child - all parents have one, but they don't want to hurt the other kids' feelings by saying it out loud.

I'd like to point out that these are consistent events only, not one time things like eating cookie burgers, a tube of cookie dough, or finding out how much destruction a bag of baby carrots can cause.

Honorable mention: The Jack in the Box Heart Attack Meal.
I put this as an "honorable mention" because none of us have actually gone through and ordered this meal from JITB: Ultimate Bacon Cheeseburger (1090), Bacon Cheddar Potato Wedges (720), Oreo Shake (1290). Those are the calories in parenthesis per the JITB website...yeah. Order this and be prepared to turn out the lights. You're done, kid. *update: I didn't realize that this was a common meal in Sir's heyday at Alton High. I met him when he was past his eating prime.

-Any trip to Buffalo Wild Wings. If I'm on my game, I'll throw down 20 boneless wings easy. I believe I hit 30 the last time we had a big event there. But the wings aren't the main reason why BWW is on this list. It's the fact that we've gone through more than one waitress, numerous times. Yup, we're so fat and addicted to sports that we've outlasted waitresses through their shifts. I'd like to see Buzz Bissinger do that.


-Chicken Wing Platter at Hooters. I'll stick to the chicken wing theme; we've dusted off a 50 wing platter at Hooters a few times (me, Sir, and Maltliquorman). The Hooters Girls were mightily impressed...that we didn't have to leave in a wheelchair.

-The All You Can Eat Shrimp at Red Lobster. All things considered, I'm not really a shrimp guy. I'll eat it, but it's one of the many things that I don't like unless it's fried. That's when Red Lobster hates me; I can down a ton of fried shrimp. Every fall (though I don't remember if they did it last year), RL runs their AYCE special for $25. I've been there with Sir and cleaned house like I was the 30th man in the Royal Rumble. Best memory was going there for game three of the '06 NLCS, watching Suppan throw a gem vs. the Mets. Good thing we were around back then in case you forgot how the game went.

-GBC. My mom makes some awesome Gooey Butter Cake. If you've never tried it, then you just don't know...

-"Hey, Let's go to Tuckers." Whenever Sir says that to me, it's an insta-call. Next time he's in town, we need to do that. Tuckers has one of the best 'big ass steak + potato (optional) + salad (very optional) + bread' deals around town. It's a shame that I never went during Freshman year at UMSL. I don't remember why, I never used "studying" as an excuse for anything. I know this is bad business and bad negotiating, but if Tucker's ever wanted to put banner ads at the top of this website, I'd let them do it for free.

-The 4th of July Hot Dog Eating Contest, est. 2006. Past champions are: me in the inaugural, and Pink Ass Ben last year. I'm sure the '08 version will be highly competitive again. The time to beat is just a little under 4 minutes for 5 hot dogs (something like 3:50-3:55).

-Me on Super Bowl Sunday. The highlight of my Super Bowl eating career was back during the Rams meltdown in SB36. I had a hot dog wrapped in bacon. With Cheese. With Mustard. With Chili on top. Then I had another . Championship! (for me, not the Rams) Seriously, I murder some food on Super Bowl Sunday, it's not even funny.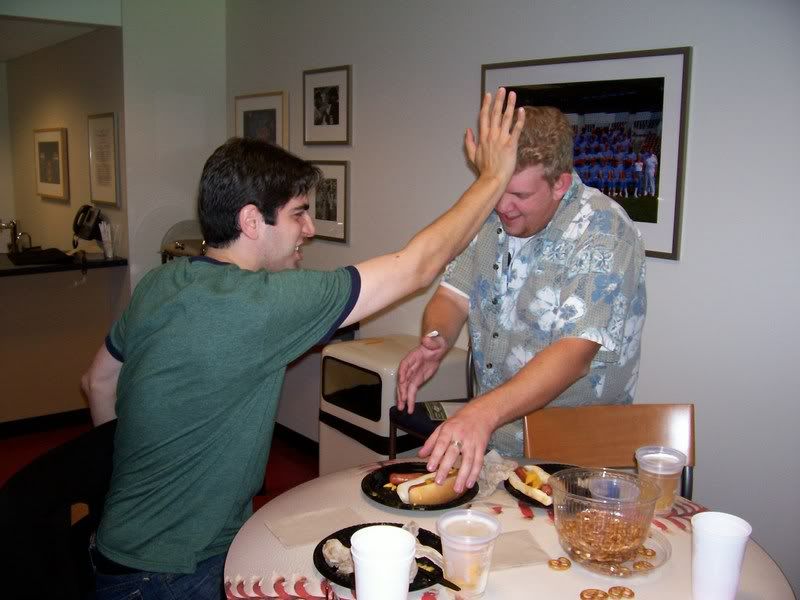 -The All You Can Eat Tickets at Busch. This is another tradition started in 2006. Whenever you have AYCE seats for Cardinal games (or any sporting event), the game is pretty much secondary. Maybe even thirdary, if that's a word. Drinking booze and wolfing down the most hot dogs, burgers, cookies, nachos, and beef brisket (including many combinations of all the above) is the goal. You've got to make sure you get your $90 worth in the span of about 2.5 hours. The best part is that you don't have to eat for about three days since you're just buried in a reclining chair until your heart says it's okay to proceed with your life. This year's AYCE game is in jeopardy, we need to find a game and get some tickets.

-OCB/Homestyle Buffet Trips. I'd like to say that other tables watch in awe as we destroy the buffet, stack plates, stuff our face with piles of fried food, stand on a chair, and self-proclaim that we're the Fatass Champions of the Universe. But truth is, we're usually on the lighter side when it comes to the clientele of OCB/Homestyle, and that's saying something. As Mike Shannon would say, "Come and get it big boyyy." And they do.


-The Donut Burger. This was originally brought to our attention by Big Sandwich here, and carried out over at his place later that summer. I thought our homemade version was pretty good, but I'll eat anything that involves meat (hey what are you laughing at?). We also had one out in Sauget at a Grizzlies game last year, too bad they aren't hardcore enough to make it with full donuts as buns - they just cut one in half. A smaller shout-out goes to the deep fried White Castle at the Grizzlies games, but it's not as good as it sounds. After eating that at a game last year, I had to write a letter of apology to my heart. This time, he forgave me. I'm not sure if I'll be so lucky next time.


There you have it, hopefully I didn't forget anything too obvious. Moral of the story is that we're fat, but we like having a good time. And I'm out of breath from typing all that.