College ain't just about getting drunk, skipping classes, and playing Halo. It's also about playing the grand old game (sometimes nine innings, sometimes seven) with aluminum bats and a mercy rule, to the general disinterest of 99% of the American population.


Today's opening day for D-I schools (although my own Drury Panthers have been going at it for a week or two). Mizzou takes on Connecticut at noon. I assume that 2008 MLB draft rising star Aaron Crow will get the start.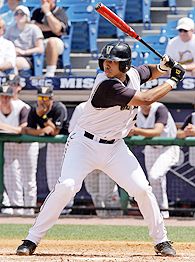 But really, this whole season is about one man: Pedro Alvarez. Get to know him.


For all your NCAA baseball needs, go here. I assume at some point they will have a scoreboard up. If not, it's no wonder that college baseball is far, far behind college hoops and football in the hearts and minds of the American public.